EDA University Center for
Regional Economic Innovation
Networks Overview
Video: Voices from Regional Economic Innovation (REI) Network
Hear what our Network Members have to say about working with REI.
Communication
REI uses elecronic mailing lists and social media to communicate and interact with the Networks. Please join our LinkedIn group and follow @MSU_REI on Twitter to stay connected, and use the sign up form to join the email list.
Networks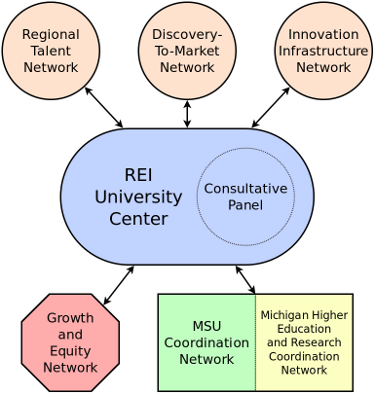 Regional Talent (RT)

The RT network assists with identifying the innovative training and entrepreneurial drivers needed to transform selected existing regional economies toward increasing innovation-based enterprise formation. Particular attention is paid to the skill training support and other individual skill development opportunities and support organizations needed in the 21st Century economy.

Discovery to Market (DtM)

The DtM network represents the support system for researchers and scientists seeking to turn their discoveries into marketable goods and services. Participants of the REI DtM Network come from institutions and organizations supporting DtM and independent innovators and inventors.

Innovation Infrastructure (II)

The II network represents institutions and organizations fundamental to both the development and support of innovation as understood by the physical infrastructure needed to sustain and expand a highly skilled innovative production economy.

Growth and Equity (GE)

The GE network represents the needs and perspectives of Michigan's distressed regional economic ecosystems in the initiatives and programming of the EDA MSU University Center. The network is made up of leaders, organizations and associations with the unique experience and wisdom of their economically distressed communities. They are drawn from local policy bodies, community organizations, Tribal Institutions and institutions whose mission is serving the needs and promoting the development of distressed regions.

MSU Coordination (MSUC)

The MSUC network serves as a frontline case for addressing the issues to be faced and solved in matching university assets to Michigan's high-growth entrepreneurial regional and local economic ecosystems.

Higher Education and Research (HER)

The HER network completes the linkages and connections to ensure the involvement of all of Michigan's universities and colleges in the work and activities of the MSU EDA REI University Center.

Consultative Panel

At the hub of the REI University Center is the Consultative Panel of statewide knowledge-based and experienced experts. The purpose of this select panel is to counsel and advise the REI University Center faculty and staff on the overall project objectives and scope of work.
If you would like to join any of the above networks and become a part of the Regional Economic Innovation ecosystem in Michigan, please fill out the sign up form.