EDA University Center for
Regional Economic Innovation
Expanding Economic Literacy by using the Money Smart for Small Business Curriculum (2014)
Project Details
Co-Learning Plan - 2014
Author: Amanda Blondeau, Northern Initiatives
Summary
This Co-Learning Plan proposed to develop training videos based on the 10 training areas of the FDIC Money Smart for Small Business program. Assessments were built in and pre/post-tests examined whether learning took place. The videos are now available at http://www.northerninitiatives.org/business-services/small-business-videos/
Report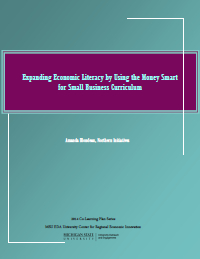 Read the full report
Summit Presentation
Detailed Description
"Expanding Economic Literacy by using the Money Smart for Small Business Curriculum" was an REI-funded Co-Learning Plan authored by Amanda Blondeau with Northern Initiatives. Initially founded as an academic program at Northern Michigan University, Northern Initiatives uses lending as its primary tool to revitalize the region's rural landscape. They also provide technical assistance and individual business support to improve financial literacy and the overall business strategy.
While most of Michigan had made substantial progress towards an economic recovery after the recession, Northern Initiatives' rural service area was struggling to keep up. Jobless rates are higher there than in Michigan or the United States as a whole, and the population has been on a steady decline. Ms. Blondeau and Northern Initiatives saw this as an opportunity to compliment the hard working, reliable attributes that the region already possessed, with access to the technical skill training programs that the area desperately needs. This inspired the vision for a series of Money Smart training videos.
They highlighted skills that new business owners tend to be less familiar with that can sometimes become barriers to running the company as efficiently as possible. Money Smart topics include insurance, tax planning and reporting, financial management, risk management, and credit reporting. The project team then created an online training portal to address different needs of client businesses in a scalable manner. The portal officially launched in September 2014.
In total, 25 small businesses received training through this model. This project also resulted in $147,000 in public and private investment.
Author