EDA University Center for
Regional Economic Innovation
Operation Above Ground: Improving Licensing for New Food Businesses to Promote a stronger Detroit Food Economy (2014)
Project Details
Co-Learning Plan - 2014
Author: Jess Daniel, FoodLab Detroit
Summary
This Co-Learning Plan provided research and a visual mapping of the current licensing process for five new and alternative models of food business to take the first step in removing a significant barrier to the emergence of a more diverse, thriving, healthy, and innovative food economy in Detroit.
Report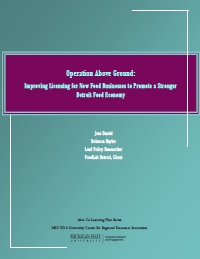 Read the full report
Summit Presentation
Detailed Description
"Operation Above Ground" was a 2014 Co-Learning plan authored by former Foodlab Detroit Executive Director, Jess Daniel and researcher, Rebecca Baylor. This project intended to promote the emergence of a more diverse and productive food economy in the motor city. The team researched the food licensing process and addressed possible barriers to entry. Using this information, the project team stated three specific goals that would give local entrepreneurs in the food industry a better blueprint for success.
The first task was to offer assistance to Detroit's small food business owners who were not yet properly licensed, next, the team developed a "map" of the current licensing process for the top five alternative food business models with the help of local regulatory agencies. These alternative models include temporary-to-permanent pop-ups and shared-use kitchens. The third goal was to make progress toward a fairer fee structure for these co-ops and shared-use kitchens.
Since the initial "Operation Above Ground" publication, FoodLab Detroit has worked with MDARD inspectors to create a licensing guide. In addition, FoodLab Detroit is now working to more fully understand the regulatory environment in order to create easy-to-understand resources (in both English and Spanish) for entrepreneurs. Currently there are 192 Foodlab member businesses benefitting from partnership. Foodlab continues to hold frequent Licensing & Regulations 101 workshops for entrepreneurs who wish to learn more about producing safe food products to sell in the marketplace. In July of 2015, Foodlab Detroit received $100,000 from the W.K. Kellogg Foundation to help them support more small businesses and continue to improve their platform.
Author