2014 Innovate Michigan! Summit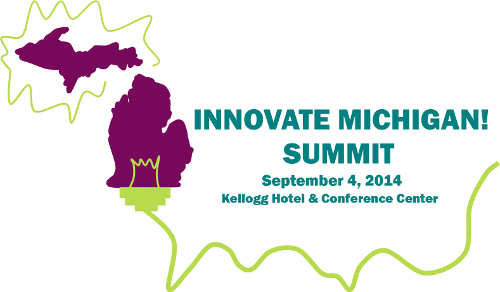 What: Learn, share, and create innovative economic development ideas for tools, models, policies, and programs.
When: Thursday, September 4th, 2014 at 9:00am (Registration at 8:30).
Where: Kellogg Hotel & Conference Center, 219 S. Harrison Rd., East Lansing, MI
Register Now for the 2014 Innovate Michigan! Summit
Innovative #Ideas4MI Needed
REI supports the identification and development of Co-Learning Plans based on innovative economic development tools, models, policies and practices. We are looking for new ideas for the next round of plans - if you have an innovative idea, submit it here or tweet it using #Ideas4MI and it could become a Co-Learning Plan in 2015!
Michigan Inventors Coalition EXPO 14
The Michigan Inventors Coalition will be hosting their EXPO 14 on Thursday, September 4th, as well. To learn more and to register, click here.
Last Chance for Fall Semester Student Projects
The REI University Center is currently soliciting funding applications for fall semester student-led faculty-guided projects and the deadline is today at 5:00pm. These projects leverage Michigan's higher education resources to help distressed cities and regions while also educating students about techniques and ideas in the field of economic development. To learn more or to apply for funding, visit the Submit an Application page.