Share, Learn, Create Innovative Economic Development Ideas!

"A diverse and dynamic network developing innovative economic development ideas, tools, models, policies, and practices for Michigan."
REI Receives Five More Years of Fundinig
The Michigan State University Center for Community and Economic Development has been awarded a $2.06 million University Center grant from the U.S. Economic Development Administration to continue creating, identifying, and implementing new and innovative economic development tools and strategies in order to expand business opportunities and create jobs in Michigan. Over the past five years, MSU REI has established many beneficial partnerships with on and off campus partners and stakeholders, many of whom have contributed to positive project outcomes throughout the state.

Within the past five years, REI has supported projects led by 15 different higher education institutions throughout Michigan, and with over 800 individuals and organizations to initiate over 100 projects, sparking more than $60,000,000 in additional public and private investment. REI's nearly 50 webinars and videos, and more than 65 in person in-person presentations at five Innovate Michigan Summits have successfully disseminated new knowledge to the state. All of this along with our network of over 1000 various industry and academic professionals allowed REI to be recognized as a finalist in the UEDA Awards of Excellence Program.

Going forward, MSU REI will

introduce the new "Innovation Fellow Program" to implement past projects with interested community partners. We will also begin to

expand REI's reach to the Midwest mega-region.

Click here for more information.
Student-Led, Faculty Guided Projects
Call for Spring 2017 Student-Led, Faculty Guided Projects
REI is currently soliciting applications for 2017 Spring Semester Student-Led, Faculty Guided Projects!
These projects leverage existing real-world initiatives to provide economic development professionals with access to technical assistance and data analysis that otherwise would not be available due to budgetary or time constraints. Examples of projects have included assessments of regional ports and community redevelopment plans.
These projects do not only provide valuable and inexpensive support to a community, they also provide the students with experience in the field to be better prepared for their future careers.
Project reports can be found on REI's
current projects page
.
The deadline to apply is November 18th, 2016, and the application can be found
here
.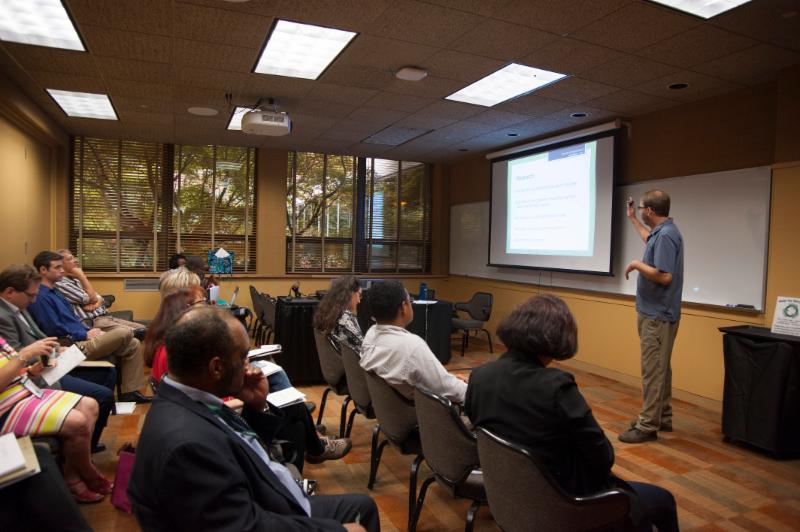 Introducing: The MSU REI Innovation Fellow Program
To kick off our new round of funding from UEDA, REI is rolling out a new project phase this winter: the Innovation Fellow program. Innovation Fellows will be community leaders who will facilitate the implementation of past Co-Learning Plans. We will begin soliciting for innovation fellows on December 7th, but its not too early to start planning. If you are a community organization who would like to implement a version of one of our past Co-Learning plans or Student-Led Faculty Guided Projects, this is your opportunity!
For more information, please reach out to REI Project Coordinator Jennifer Bruen (bruenjen@msu.edu).

What is a Co-Learning Plan?
Co-Learning is a process in which multiple parties collaborate to generate new knowledge. In a Co-Learning Project, innovative economic development tools, models, strategies, policies, and practices are researched, and the findings and recommendations serve as a key resource for economic development practitioners and policymakers in Michigan. Co-Learning Plans can be written by practitioners, decision-makers, community leaders, entrepreneurs, scholars, or other stakeholders.
Learn more about the process here.

Potential Project Ideas for 2016-2017
Below is a list of potential topic ideas for our next round of projects! We will begin soliciting applications for authors later this month; stay tuned!
Term Limits and Economic Development

Term limits on Michigan's legislators were initiated in 1992, this report would analyze and compare how long-term goals were affected by this after 1992. Also, it would compare economic development strategies between states with and without these term limits.

Social Entrepreneurship

This report would answer the question, "What is social entrepreneurship?" and look for examples in Michigan. Then it would take these findings and form recommendations of what economic developers can provide to encourage these practices.

Public Infrastructure and Economic Development

Should public dollars be spent to attract a business when excess capacity exists in other communities?

This project would research what has been done in other places in the US to strategically target publicly funded infrastructure, and target models that could be adopted.

Gender Gap

How would the world economy differ if wage gaps were bridged?

Would look at the current state of the gender pay gap and investigate policies that could effectively bridge it.

Job Sharing and Succession

How do you replace workers in specialized positions when they are ready to retire?

Job sharing/apprentice programs could allow for quicker skill transfer and a smooth transfer to the next job occupant.

Dashboard Denial
Riba Free Financing

Areas with large Muslim populations are religiously motivated to avoid interest bearing loans, which makes it much harder for them to get a business off the ground.

There is a successful crowd funding market in Minneapolis that allows business owners and entrepreneurs access to capital while maintaining Sharia compliance.

The project would examine the potential of alternative funding programs in Michigan and create a plan for implementation.

Great Lakes Non-Compete Agreements

Tax incentive based competition between states is causing an unstable, ever relocating business flow.

Would analyze the ways that non-compete agreements affect the economic climate in the Midwest compared to other regions.

Cultural Food and Tourism

This project would examine pre-colonial diets that emphasize sustainability, healthfulness, and appropriateness tied to cultural heritage tourism.

Would study successful projects in other regions and assess the potential in Michigan.

Unconditional Basic Income

Unconditional Basic Income mandates a guaranteed stipend to every resident of a community in efforts to address rising inequality.

This is gaining popularity among other prosperous regions in the world, what is the feasibility for implementation in Michigan and other states?