Johnathan M. Holifield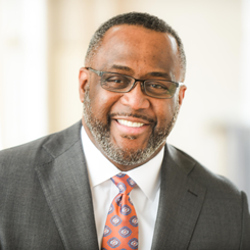 Architect of Inclusive Competitiveness®
Johnathan Holifield is co-founder of ScaleUp Partners, a nationally networked consultancy specializing in blending economic inclusion and competitiveness and building community systems to improve the productivity of underserved Americans in the Innovation Economy. The firm has provided services to a select group of leading economic development and education organizations and institutions, local and state governments and national membership associations.
Prior to founding ScaleUp Partners, Johnathan was founding Vice President of Inclusive Competitiveness at NorTech, where he won support for regional innovation development strategy shift to address opportunities for underserved communities and authored the Ohio Board of Regents Statewide Report on Inclusive Competitiveness. Earlier in his career, Johnathan gained extensive experience in regional and innovation-based economic development with the Cincinnati USA Chamber of Commerce, as its founding Vice President of New Economy Enterprise, and CincyTech, where he was founding Executive Director. He has also held chief executive positions with the Buffalo Olmsted Parks Conservancy and Cleveland Urban League.
Johnathan's accomplishments include, raising over $40 million, leveraged to create networks of more than $250 million of early-stage risk capital, significantly increasing investment options for entrepreneurs; creating Ohio's first information technology public school, which became a U.S. Department of Education National Blue Ribbon School; and securing a $5 million appropriation to implement the state's first STEM education and entrepreneurship program.
Johnathan holds a bachelor's degree from West Virginia University, where he was elected football team captain, and a M.Ed. and J.D. from University of Cincinnati. He has completed additional professional studies, earning an economic development certificate from The University of Oklahoma's Economic Development Institute.
He was selected to the inaugural national cohort of the ACT Foundation Aces and received Ohio gubernatorial appointments to the Midwest Governors' Association Investments for the Knowledge-based Economy Project, serving as co-chairman of the Increasing Research Capacity and Accelerating Commercialization team, and to the Ohio House and Senate Joint Commission on High-Tech Business. Johnathan has written extensively on matters of innovation development and economic inclusion and competitiveness, authoring the upcoming book, The Future Economy and Inclusive Competitiveness and co-authoring the Economic Development Journal article, Inclusive Clusters: Embedding Inclusiveness in Cluster Policy and Practice.
Serving on diverse governing and advisory boards, including Bio/Start Bio/Medical Start-Up Center, Greater Cincinnati Venture Association, The University of Oklahoma's Economic Development Institute, The Greater Cincinnati Foundation, Council of Regional Economic Policy Advisors (Cleveland, OH) and West Virginia University Alumni Association, Johnathan is also a member of Sigma Pi Phi Fraternity, Tau Boulé and Omega Psi Phi Fraternity, Inc. and a former player with the Cincinnati Bengals of the NFL.
Find Johnathan on LinkedIn and scaleuppartners.com. Contact him at johnathan@scaleuppartners.com.
Johnathan will deliver the keynote at the 2016 Innovate Michigan! Summit.