2013: Michigan Garage and Basement Inventors: Advancing Michigan's Economy
Co-Learning Plan - 2013
Authors: John Hopkins, Michigan Inventors Coalition
Summary
Interviews of Michigan Inventors revealed several processes inventors might engage in to take their idea to market. This Co-Learning Plan highlighted the lack of support for those inventors not associated with a college or university and expanded on recommendations for how to assist them.
Project Updated As Of September 30th, 2013
Webinars
Watch with accessible video player
Author Information

John Hopkins, Michigan Inventors Coalition
John D. Hopkins is chairman of Jackson Inventors Network and Michigan Inventors Coalition serving inventors and economic development groups. Winner of the Jackson Chamber 2013 Entrepreneur Vision award, member JAMA MNM, Mich Bio, Jackson Chamber. Holds 3 medical patents, BSA Architecture, designed over 100 medical facilities, and is CEO of Medical Innovative Products.
---
Overview Video
Watch with accessible video player
Summit Presentation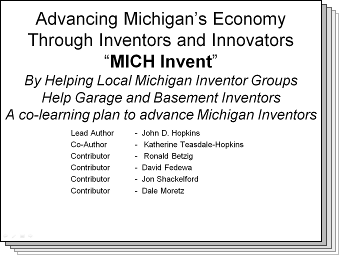 Powerpoint presentation from the 2013 Innovate Michigan! Summit
---
View the Report