2012: On-Site Technology Training for Small, Rural Michigan Businesses
Co-Learning Plan - 2012
Authors: Eric Frederick, Connect Michigan; Elizabeth Riesser, Connected Nation
Summary
Connect Michigan has been leading the way to bring the economic and quality of life benefits of broadband to all Michigan residents. This report explored the opportunity for hands-on, on-site technology training for Michigan small businesses and suggests a model for local implementation.
Project Updated As Of September 30th, 2012
Webinars
Author Information

Eric Frederick, Connect Michigan
Eric Frederick is the state program manager for Connect Michigan. Eric leads Connect Michigan's continuing statewide effort to increase broadband adoption and use. Prior to joining Connect Michigan, Eric was a planner for LSL Planning, Inc. He holds a Master of Urban and Regional Planning from Michigan State University and a Bachelor of Science degree in planning and Geographic Information Systems from Northern Michigan University. He is a member of the American Institute of Certified Planners and a LEED Accredited Professional.

Elizabeth Riesser, Connected Nation
Elizabeth Riesser is Research Analyst for Connected Nation in the Bowling Green office where she is responsible for using qualitative and quantitative techniques to interpret data, formulate reports, and make substantiated recommendations based on research findings. She works with internal and external stakeholders to develop research and provide critical analysis in support of the Connected Nation mission. She also provides quality assurance review of data and reports, in particular providing input to research methodology and complex statistical analysis plans. Before joining Connected Nation, Elizabeth worked for the Office of Medical Education for the University of Louisville. In this role, she was primarily responsible for coordinating the course evaluation process, including survey administration and design and qualitative and quantitative analysis of survey data. She also provided assistance with curriculum evaluation activities (statistical data analysis and research design consultation). Prior to that position, Elizabeth worked as a neighborhood planner in Columbus, Ohio, where she produced neighborhood planning documents, performed economic and demographic research, and provided spatial analyses of planning areas. She holds a Bachelor of Arts degree in history and a Masters of city and regional planning from The Ohio State University.
---
Summit Presentation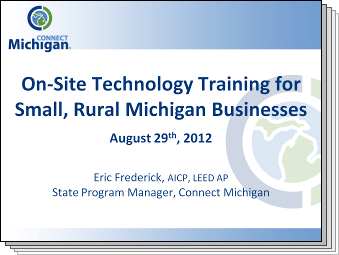 Powerpoint presentation from the 2012 Innovate Michigan! Summit
Overview Video
---
View the Report