2019: Community Stakeholder and Neighborhood Resident Strategies for Community Revitalization
Co-Implementation Plan - 2019
Authors: Norman Christopher, Private Consultant
Summary
This innovation project will build upon the previous MSU REI student led research project on resident driven investment strategies, but also explore other viable social impact and social entrepreneurship community revitalization and investment strategies that are now available for use such as Charitable Loan Funds, Community Land Trusts, Social REITS, and Opportunity Zones etc.
With the input of NGOs, businesses, foundations and other organizations, a community revitalization "playbook" will be developed that discusses the major economic development and social impact investment strategies that are now available for use by both community residents as well as the public and private sector. A glossary of key social impact terms will also be prepared.
Key statewide case studies will be used on a best efforts' basis, so that other Michigan cities, communities, and neighborhoods can collectively learn what type of social impact investment strategy would work best in their community. A standardized approach will be used to evaluate each social impact investment strategy for potential use. This social impact investment "playbook" will be of help and assistance to foundations and other grant making institutions, community residents, philanthropic donors, social NGOs, as well as local communities and neighborhoods as they seek additional sources of capital to increase economic development activities and address specific social impact areas of concern, such as affordable housing. This project will be considered as a "work in progress."
Author Information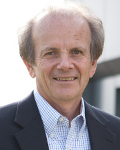 Norman Christopher, Private Consultant
Norman Christopher is a seasoned executive with background and experience in various management capacities including President, CEO, and COO responsibilities. He has improved business performance at major chemical companies including Havil and Enterprises in Grand Rapids, Michigan. He recently retired as the Executive Director for the Office of Sustainability Practices at Grand Valley State University, where sustainability is one of the University's core values.
Mr. Christopher has a BA from the University of North Carolina and a MBA from the University of Connecticut. He also completed the Program for Management Development at Harvard University. Recently, he was presented with a Lifetime Achievement Award in Sustainability by the West Michigan Sustainable Business Forum.
Mr. Christopher is active in the Grand Rapids community. He is a past chairman of the Family Owned Business Council, a 2000 graduate of the Leadership Grand Rapids Class, and assisted in the formation of the Community Sustainability Partnership in Grand Rapids. He was appointed to serve on Governor Granholm's Michigan Climate Action Council; and by the United States Department of Commerce to serve on their Environmental Technologies Trade Advisory Committee. He has been a member of the Grand Rapids and West Michigan Community Sustainability Partnership Leadership Teams.
Currently, he is Chair of the BIFMA and NSF e3 Furniture Sustainability Standard Joint Committee; and on the board and advisory groups of Seeds of Promise, Valley City Sign, and the Sabal Pointe Condominium Association.
Mr. Christopher has also contributed numerous articles and papers to journals and periodicals. Submitted book chapters include Sustaining Michigan: Metropolitan Policies and Strategies, Michigan State University Press; and The Handbook of Sustainability in Management Education, Elgar Publishing. He is the author of the book Sustainability Demystified! - A Practical Guide for Business Leaders and Managers.