2012: A Global Review of Innovative Practices in Regional SME Exporting Strategies and Foreign Direct Investment Attraction
Co-Learning Plan - 2012
Authors: J.D. Snyder, Kenneth E. Corey, Michigan State University
Summary
This Co-Learning Plan describes findings from the MSU Center for Community and Economic Development based on research conducted at a global scale to identify innovative practices in regional exporting strategies and foreign direct investment (FDI) attraction.
Project Updated As Of September 30th, 2012
Webinars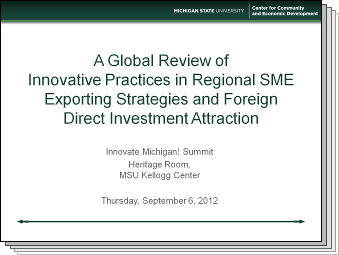 Powerpoint presentation from the 2012 Innovate Michigan! Summit
Author Information

J.D. Snyder, Michigan State University
J. D. Snyder currently heads the US EDA-funded East Michigan and Eastern Upper Peninsula Regional SME Exporting Strategies project. He was the project director for the USDA-funded Northern Michigan Capital Access Project and the US EDA-funded project to support Northern Michigan regional planning in the global knowledge economy. He served as an environmental advisor to Michigan Governor James J. Blanchard (1984-89) and Director of the Michigan Office of the Great Lakes (1989-90). He has an M.S. in Resource Development from Michigan State University and a B.A. in history from Wayne State University.
---
View the Report