2022: Growing a Well-Functioning Homebuyer Ecosystem for Low-Median Income Detroiters
Innovation Fellow - 2022
Authors: David Palmer
Summary
There is a long-term, largely unmitigated, affordable housing crisis in the City of Detroit, with a long history of housing segregation, redlining, and their historic impact on. Focusing on the period from 2015 to 2019, data makes clear that the traditional mortgage market does not serve the needs of Detroiters. This Innovation Fellowship will build upon 2021 research to seek solutions to a systems level market failure. There are incredibly limited avenues for low-median income Detroiters to become homeowners. This project will become a natural outgrowth of the paper David Palmer authored in 2014, with support from Prior 2020 Innovation Fellow Angela Barbash's, "Community Based Investing: Crowdfunding and the Michigan Invests Locally Exemption" project. Palmer's project will expand upon the actors Barbash mapped in 2020, as well as add to the "Community Capital Accelerant" project that Chris Miller established in his 2021 Innovation Fellowship. The economic development challenge addressed with this project will address a specific systems failure in the City of Detroit, leveraging the tools and building upon the work of Barbash, Miller, and many others to develop solutions not currently available in the marketplace.
The economic development focus of this project is significantly different from previous REI projects focused in Detroit. This project will focus on building solutions to systems level failures. The economic development focus of this work includes three components:
1. Homebuyer education: improved outcomes through regular facilitated convening and improvement to data tracking and reporting.
2. Community Development Fund: organizations in Detroit need access to a funding source(s) that will make slow money available to finance the acquisition, renovation, and sale of properties to low-median income Detroiters.
3. Portfolio Mortgage Fund: low-median income Detroiters who have completed homebuyer education training are not well-serviced by traditional mortgage lenders.
A portfolio product should be created to serve this population that has underwriting, income, credit and loan amount standards that meet the needs of these borrowers. These points will evolve into a white paper during the term of this project. This Fellowship will provide the avenue, focus, and legitimacy needed to continue to grow these concepts into functioning deliverables. When this project is successful in convening and organizing scalable solutions, it will provide a template for similarly situated communities in Michigan including Flint, Saginaw and Benton Harbor.
Author Information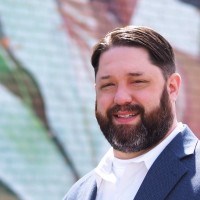 David Palmer, MPA, is a multi-disciplinary convener, facilitator, public speaker, researcher, entrepreneur, and Realtor, in private practice. He is principal of DC Palmer LLC and is a licensed Michigan Real Estate Associate Broker, affiliated with Realty Experts, LLC.
Mr. Palmer spent 10 years working in kitchens as a self-taught chef. Another ten years managing successful small businesses: one focused on environmental remediation and the other flow dynamic measurement and systems integration. Next, he invested five and a half years in nonprofit regional workforce development, and concurrently seven years serving his residential and commercial real estate clients. He most recently served as the Interim Executive Director of the Hamtramck Parks Conservancy, on assignment for the Michigan Municipal League Foundation.
While the Senior Director at the Workforce Intelligence Network (WIN, 2014-2019), he supported the development, award, and program implementation for over $40 million in federal, state and foundation grants received to support workforce training and capacity building in the 16 county Detroit region.
Mr. Palmer holds a Master of Public Administration degree, with honors, from Eastern Michigan University (EMU). He also earned a graduate certificate in nonprofit management and a undergraduate degree in political science and business from EMU. He is a member of the National Association of Realtors, the Great Lakes Renewable Energy Association, and a number of other professional and economic development associations. He has served on numerous advisory committees and nonprofit boards.
He lives in the Rosedale Park neighborhood, on Detroit's west side, and can be frequently found working on a tablet during afternoon Detroit Tigers games during the warm months.
---
View the Report