2012: Innovation Brokering for a Community-Based Economy
Co-Learning Plan - 2012
Authors: Deborah Groban Olson
Summary
This Co-Learning Plan presented and analyzed the efforts of the Community-Based Economy Group (CBE Group) in Detroit to adapt proven models of community-based business and social practices to help locally-rooted businesses accelerate transformation of Metro Detroit to a sustainable and inclusive local economy.
Project Updated As Of September 30th, 2012
Webinars
Author Information

Deborah Groban Olson
Deborah Groban Olson is an attorney with over 30 years' experience creating and advising employee-owned companies, and cooperatives, representing companies, trusts, unions and employees throughout the US. She leads the Community-Based Economy Group (CBE Group) in Metro Detroit, which includes: the non-profit Center for Community Based Enterprise, Inc. (C2BE); IngenuityUS, L3C, a community business developer and innovation broker; and the Detroit Community Cooperative. Olson also does research, writing, teaching and serves on a variety of boards.
---
Summit Presentation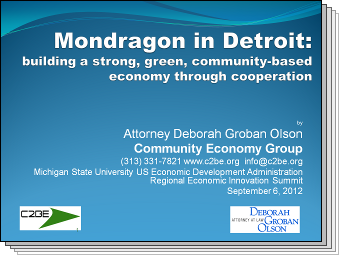 Powerpoint presentation from the 2012 Innovate Michigan! Summit
---
View the Report