2014: Promotion of Cooperative Enterprises in Distressed Urban and Rural Communities
Co-Learning Plan - 2014
Authors: Edward Lorenz, Ph.D., Public Affairs Institute of Alma College
Summary
This Co-Learning Plan showed how Flint, Michigan has developed a unique program that brings together diverse community stakeholders to support youth entrepreneurship. It is targeted at educators, economic development professionals, and those interested in grassroots community initiatives.
Project Updated As Of September 30th, 2014
Webinars
Watch with accessible video player
Author Information

Edward Lorenz, Ph.D., Public Affairs Institute of Alma College
Edward Lorenz is a Reid-Knox Professor of History and Political Science at Alma College and Director of Public Affairs Institute at Alma. He earned a Ph.D. from University of Chicago focusing on the history of work and education related to work. Previously worked for the Maryland Department of Economic and Employment Development and the National Commission for Employment Policy. Author of Defining Global Justice: The History of U.S. International Labor Standards Policy (Notre Dame University Press, 2001) and Civic Empowerment in an Age of Corporate Greed (Michigan State University Press, 2012), winner of the State History Award of the Michigan Historical Society in 2012 and the Axiom Award in Business Ethics in 2013. He has also have contributed to Robert Richardson, ed., Building a Green Economy: Perspectives from Ecological Economics (Michigan State University Press, 2013).
---
Summit Presentation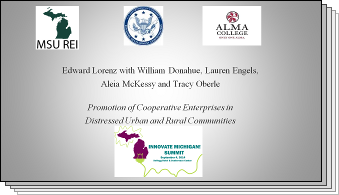 Powerpoint presentation from the 2014 Innovate Michigan! Summit
---
View the Report