2022: Regional Tax Base Sharing
Co Learning Plan Author - 2022
Authors: Ashley Bellant
Summary
The idea of regional tax base sharing is of particular significance to Michigan and other "rust-belt" states whose post-industrial cities have endured decades of population loss and economic contraction. Deindustrialization, globalization, and racial disenfranchisement – and the subsequent suburbanization – have left our urban cores with little tax base from which to provide municipal services or generate new economic activity. Played out over the course of decades, this cycle of disinvestment has greatly burdened communities throughout our Legacy Cities, and galvanized inequities in education, recreation, housing, safety, and economic opportunity.
Regional Tax Base sharing has arisen as one tool to address urban sprawl and the fiscal disparities created and exacerbated by the phenomenon. This Co-Learning Plan focuses on Resiliency Planning and Financial Resiliency. It will examine the history of Michigan's shrinking urban cores, introduce regional tax base sharing, present two case studies from Minneapolis-St. Paul, MN and The Meadowlands, NJ where regional tax base sharing has been implemented, introduce a fiscal disparities calculation that can be applied to any hypothetical municipality and discuss its use, provide talking points for proponents of regional tax base sharing, and include a roadmap detailing the policy and legal steps needed to adopt and implement regional tax base sharing in our state. This Co-Learning Plan aims to inform and stimulate discussion amongst residents, advocates, and policymakers of a new idea meant to address inequities.
Author Information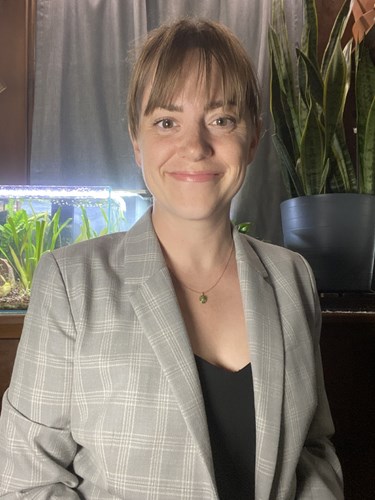 A Lansing native, Ashley Bellant recently returned home to continue her social work education and apply the advocacy and organizing skills she gained while working for criminal justice reform in Louisiana to the communities of Michigan. Currently employed with Safe & Just Michigan, a statewide organization that works to advance policies that end Michigan's over-use of incarceration, Ashley has spent nearly ten years in nonprofit administration. Ashley obtained a bachelor's in social work in 2010 and a master's in the same field with a concentration in organization and community leadership in 2021 – both from Michigan State University (MSU). She served two terms as an AmeriCorps fellow in post-Katrina New Orleans before working for a large human services provider in development, regularly raising more than $2M per year. Through this development work, Ashley realized her passion for working with justice-impacted communities and organizing for reform. With this slight career shift in mind and missing the gorgeous outdoors of her home state, she reenrolled at her alma mater. Ashley is an MSU School of Social Work Advocacy Scholar, a member of the National Organization of Forensic Social Workers, and a certified Domicologist.